When it comes to Quartz we work with many well known products.

DuPont™ Corian Quartz ® is 93% pure quartz crystal, which gives Zodiaq® a natural depth and radiance without the imperfections common in unimproved stone. And because quartz is one of nature's strongest materials, Zodiaq® is also incredibly durable and resists both heat and scratches. Custom-fit to your exact specifications and virtually maintenance free—Zodiaq® is perfect for your home, naturally.
Corian Quartz ® is composed mostly of quartz, giving it exceptional toughness and a hardness of 7 on a scale of 10 (only diamonds rate a 10!).
​Easy to maintain The smooth, nonporous surface of Corian Quartz ® resists even the toughest stains and will retain its luster for many years without the need for sealants or waxes.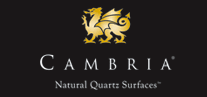 Beauty endures with Cambria.
Cambria surfaces are 93% pure quartz. Granite typically only contains 40-60% quartz, along with more porous, weaker minerals. That's why granite is more susceptible to damage.
Cambria offers the natural beauty you demand. Once thought impossible for quartz, the color, depth, clarity and natural variation found in Cambria designs are equaled only by how our product performs.

Comprised of 93% natural quartz, CaesarStone® Quartz Surfaces and Countertops offer the ultimate combination of form and function, allowing for a more diverse, durable, and practical countertop surfacing material than either granite or marble. With its stain, scratch, and heat-resistant properties, CaesarStone® is the ideal choice for care-free countertops.
CaesarStone® is the original quartz surfaces primarily used for kitchen countertops and bathroom vanities.
CaesarStone® is 93% crushed quartz, one of nature's hardest minerals. The quartz is combined with high-quality polymer resins and pigments and then compacted under intense vibration, vacuum, and pressure into dense, non-porous slabs. The slabs are post cured, gauged to precise thickness, and polished to an enduring shine.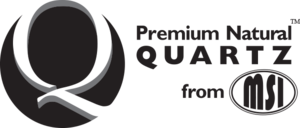 ​
Once upon a time, you'd never see high glamour looks, mod colorways, and life-long durability in the same sentence. Q™ Premium Natural Quartz changed all that. The industry's most innovative quartz countertop brand, Q's low maintenance, stain-resistant, and nearly indestructible collection features over 55 sleek and sophisticated styles – all backed by MSI's best-in-class supply chain, lifetime residential warranty, and competitive pricing. What's not to love?